The 'Withdrawal Whitelist' feature adds an additional layer of security by allowing cryptocurrency withdrawals strictly to whitelisted wallet addresses specified by you.
How to enable the 'Withdrawal Whitelist' feature:
Navigate to your account 'settings' and select 'security

Make sure that the 'Two Factor Authentication is enabled

Navigate to 'Withdrawal Whitelist'. Read and confirm that you have understood the following: once the 'withdrawal whitelist' feature is activated, all your crypto withdrawals will be limited to whitelisted addresses only. Please note that adding additional wallet addresses at a later stage is possible, but those addresses will be subject to a 5-day withdrawal hold, for account security.

Select 'Add new whitelist address'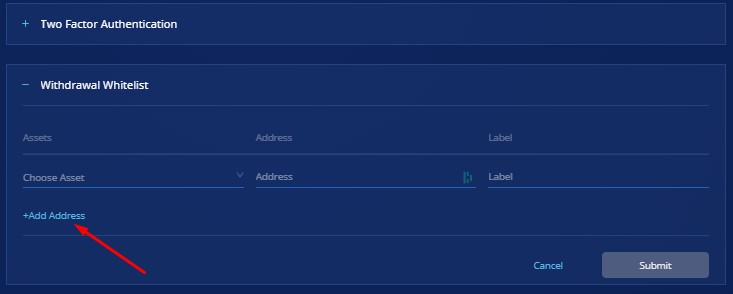 Select the asset you would like to add a wallet address to, insert the wallet address, add a label (optional) and select 'submit'. You can assign the same wallet address to more than one asset type

After entering a new wallet address and clicking on the submit button, check your email inbox for an email confirmation. The email link is valid for three (3) minutes. The wallet address whitelisting is pending until this step is completed
Once completing the initial withdrawal whitelisting setup, you will be able to withdraw cryptocurrency immediately to any of the addresses you have entered
Disabling the 'Withdrawal Whitelist' feature:
Navigate to 'Settings' and 'Withdrawal whitelist' and disable the feature by clicking on the 'on' button, or delete all addresses.

Once disabling this feature, all the previously set up addresses will be deleted. An email with a disabling link will be sent to approve this action. The email link is valid for three (3) minutes.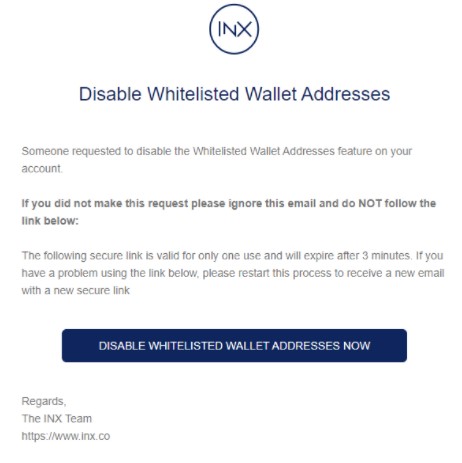 Please note: For account security, re-enabling the Withdrawal whitelist feature will require entering wallet addresses again and a 5-day hold on all crypto withdrawals.