Cryptocurrency can be withdrawn from your cryptocurrency balance on your INX ONE account and sent to a receiving wallet.
The receiving wallet must be on the same blockchain as the currency being withdrawn. For example, you cannot send LTC to an ETH wallet.
To withdraw cryptocurrency from your account, follow these instructions
Navigate to 'Settings' → 'Security' to enable Two Factor Authentication (2FA).

Navigate to 'Portfolio & Deposits'

Click on the Withdraw tab, and then Crypto. Then select the asset.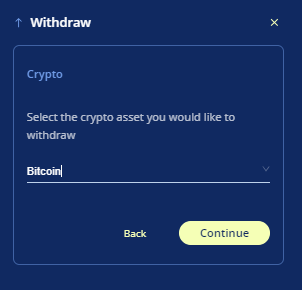 This will open the Withdraw screen where you are required to enter the receiving wallet address that you are sending the cryptocurrency to and the amount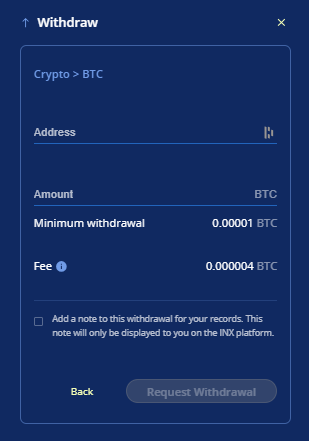 Notes:
Additional security checks through Two Factor Authentication are required before withdrawals are complete

During the approval process of a withdrawal, there may be a difference between the amounts shown under the Available Balance and Balance columns.

The status of a cryptocurrency withdrawal transaction can be monitored on a blockchain explorer
Please note that transfers sent to/from the wrong network cannot be recovered and may be lost permanently. Please make sure that you use the correct network